Digital commerce continues to grow as business-to-business (B2B) companies turn to online selling. Jumpstarted by the COVID-19 pandemic, the boost in online shopping is permanent with the global B2B e-commerce market size expected to expand by 19% in the next seven years.
As buyers have become more comfortable shopping online, B2B retail companies need to set high expectations for e-commerce. Gartner analysts say 10% of B2B organizations will use e-commerce platforms to support their customers and sales reps in all sales activities by 2024.
However, selling to other businesses has never been easy. The B2B buying journey leads stakeholders down a not-so linear path — a journey that must be thoughtfully captured through a seamless user interface and functional customer experience.

Features of Top B2B E-Commerce Companies
The sheer nature of the complex buyer journey demands that B2B e-commerce websites stay relevant. After all, it is easier and cheaper to retain a customer than to acquire a new one. One of the ways to keep customers interested and buying is by providing advanced functionality features to their e-commerce experience.
A summary of essential features leveraged by the top B2B e-commerce companies is illustrated in the table below.
| | |
| --- | --- |
| Feature | How it's used |
| Contract pricing and catalog | Special pricing, based on specific terms and conditions, rewards loyal customers. |
| Ability to buy in bulk | Digital B2B e-commerce portals transform traditionally laborious wholesale transactions. |
| Quick reordering | Repeat purchasing options are built into the e-commerce portal to enable a frictionless customer experience. |
| Restricted access control | Pricing is displayed depending on who is logged in — granting access to approved customers and hiding prices from guests. |
| B2B portal customization | User experience is designed to match users to their individual business needs seamlessly. |
| Sharing shopping carts | The ordering process is optimized for multiple complex purchases to be progressed simultaneously. |
| Quote management | The negotiation process between seller and buyer is transformed into a self-serve customer experience. |
Contract pricing and catalog
The best B2B e-commerce websites enable customer differentiation through contract pricing and specialized catalogs. Contract pricing rewards loyal customers by giving them the best prices. B2B companies negotiate contract pricing and terms based on the frequency and size of orders, and who will pay for shipping.
Ability to buy in bulk
Businesses often buy goods in bulk at a lower price to turn around and resell to their customers at retail value. Buying in bulk is called wholesale, and it is a popular form of B2B selling.
Wholesale is all about moving large quantities of product over the long term. It makes sense that wholesale companies will bring in larger order volumes on a regular basis.
Quick reordering
Many B2B e-commerce companies repurchase the same products frequently. When it comes to reordering, it is best to make the process as simple as possible for the customer. Features like automated repeat purchasing, quick order forms, and "favorites" lists let the seller create a frictionless experience for their customers.
Restricted access control
Restricted access control gives B2B e-commerce companies the option to hide the shopping cart and pricing based on the user account type. For businesses that segment pricing based on customer type, this feature displays pricing based on who is logged in. Sellers can use their public catalog for search engine optimization (SEO) while limiting access to approved customers.
B2B portal customization
Custom user experience (UX) is a critical feature of any B2B e-commerce portal. The UX should match the business' processes — different users perform different actions and the UX should respond appropriately.
Administrators create an organization hierarchy, invite users, and add payment options versus users in non-administrative roles that focus on other tasks. Users should be able to concentrate on their business areas and not get confused with unnecessary features.
Sharing shopping carts
While most B2C buyers are purchasing for themselves, in B2B commerce, shopping and checkout are not necessarily done by the same person. Multiple stakeholders impact buying decisions so the ordering process must be built accordingly.
Various shopping carts allow for several complex purchases to be moved forward together. B2B buyers can assign names to these carts and align them under specific accounts or contracts.
Quote management
Many businesses do not display pricing on their B2B e-commerce sites. Having a quote management feature transforms the tiresome back and forth negotiation into a fun self-serve experience. Configure price quote (CPQ) tools and request for quote (RFQ) buttons help create quotes quickly and accurately.

Top B2B E-Commerce Companies and Websites
The top B2B e-commerce companies focus on innovative features to deliver great buying experiences for their customers. Four prominent players from Statista's B2B e-commerce companies list, as of October 2021, are listed below.
Amazon
It comes as no surprise that Amazon is the most prominent example of B2B e-commerce websites in the world. Amazon Business, the B2B side of Amazon, was rebranded from AmazonSupply in 2015. Within a year, it achieved sales of over US$1 billion. Five years later, net sales stood at US$25 billion.
Amazon Business offers a complete package that incorporates any feature an e-commerce B2B website may need. Approval workflows and multi-user accounts allow a business to assign users to different authorization levels on the account. Account settings vary from making purchases and reporting choices to managing delivery addresses and payment options.
Like Amazon Prime for consumers, Amazon Business has Business Prime. It is a form of contract pricing. Different subscription levels unlock benefits such as progressive discounts, free delivery, and access to analytics tools to uncover buyer insights.
Alibaba Group
Alibaba Group is a Chinese multinational holding company primarily involved in B2B e-commerce. While Alibaba.com is the company's international wholesale platform, e-commerce and technology companies are also part of its organization. Alibaba.com is unique in that it links Greater China's huge manufacturing capacity to resellers in both domestic and international markets.
In this wholesale environment, buyers deal with manufacturers directly and buy products in bulk. Anyone can make an account to buy and sell, though it comes highly recommended to purchase the Pro Buyer membership. With it, buyers get payment terms, reduced shipping costs, a dedicated trading assistant, and a special badge identifying high-value customers.
Mercateo
As one of Europe's leading examples of B2B e-commerce websites, Mercateo's business model relies on the digital connection between B2B trading partners. It acts as the middle person between customers, suppliers, and manufacturers without having its own warehouse. This way, suppliers get increased product visibility and access to international markets.
With their catalog-based system, Mercateo offers quick price comparisons to standardize the buying process. Users can get pricing and product availability without having to open an account. Mercateo's unique shopping cart optimization feature, BestBasket, puts together an ideal combination of price, delivery time, and shipping costs.
IndiaMART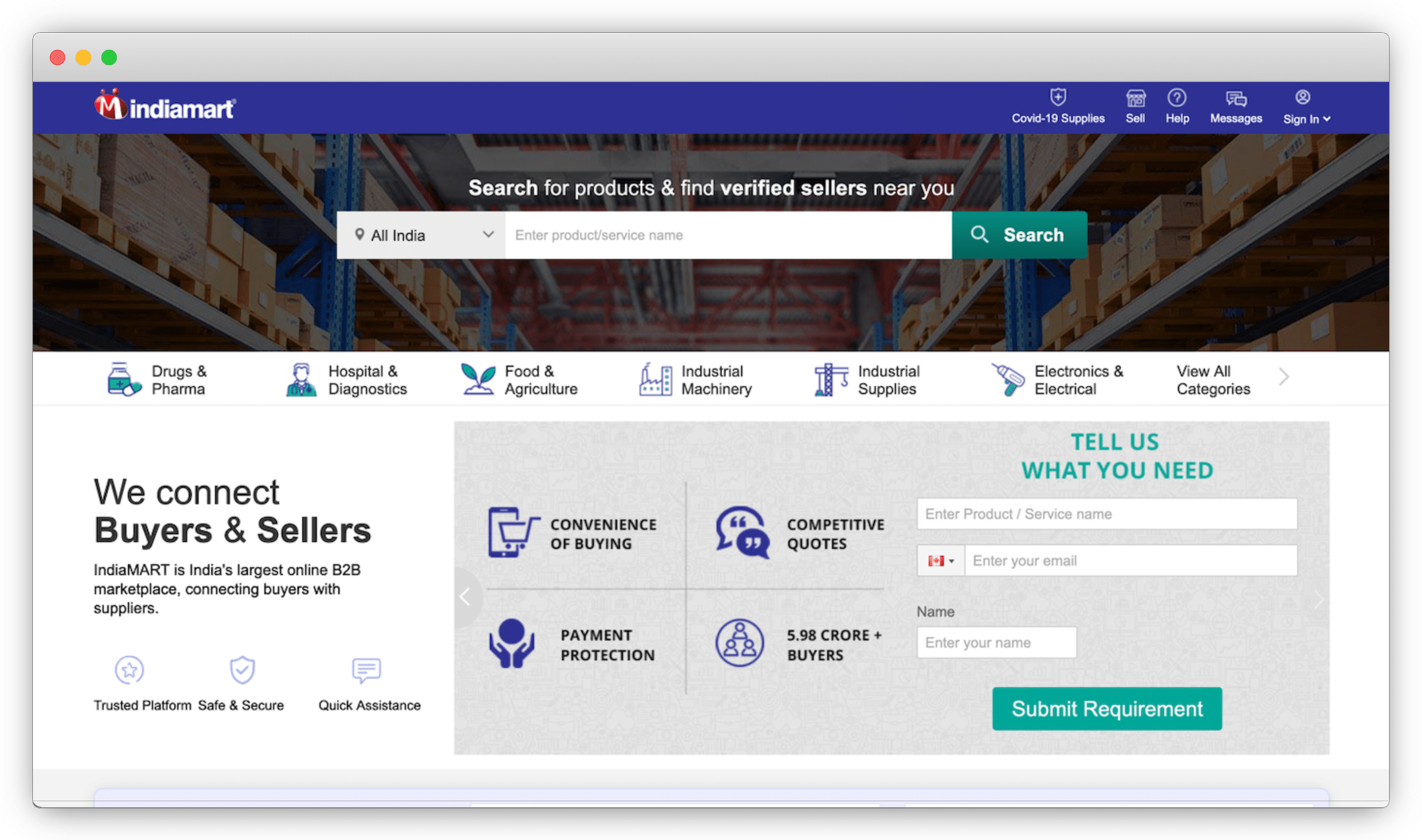 Cousins Dinesh Agarwal and Brijesh Agrawal launched IndiaMART in 1996 as a website directory for customers in the Delhi national capital region (NCR) in India. It is the country's largest website for B2B e-commerce serving small- to medium-sized businesses (SMB) and large enterprises.
Anyone has access to IndiaMART's catalog as a product listing site, but prices are limited to those with user accounts. Catalog navigation is clear and easily organized. Panels of subcategories dive into a wide range of options you can look at without having to open multiple browser tabs. Buyers can question sellers directly with pricing and regional product availability.
Over 95% of the company's revenues currently come from IndiaMART's Advantage Program that provides sellers assorted benefits. Basic accounts are free, but with limited features. The paid subscription package includes higher search engine visibility, lead management solutions, direct payment options, among others.

Key Takeaways
The boost in online shopping prompted by the COVID-19 pandemic is permanent with the global B2B e-commerce market size on target to expand by 19% in the next seven years.
Contract pricing, bulk buying, quick reordering, portal customization, unified shopping carts, and quote management are key features of B2B e-commerce companies.
The best B2B e-commerce sites, ranked by top analysts in the market and consumer data, are Amazon, Alibaba, Mercateo, and IndiaMART.
Flexible headless e-commerce services like fabric help companies build functionality features into B2B e-commerce websites, keeping customers engaged throughout the buying process.
---
Sam Shah
Product management @ fabric. Previously b2b e-commerce @ Shipwire, Fiserv, Zong, and Google.