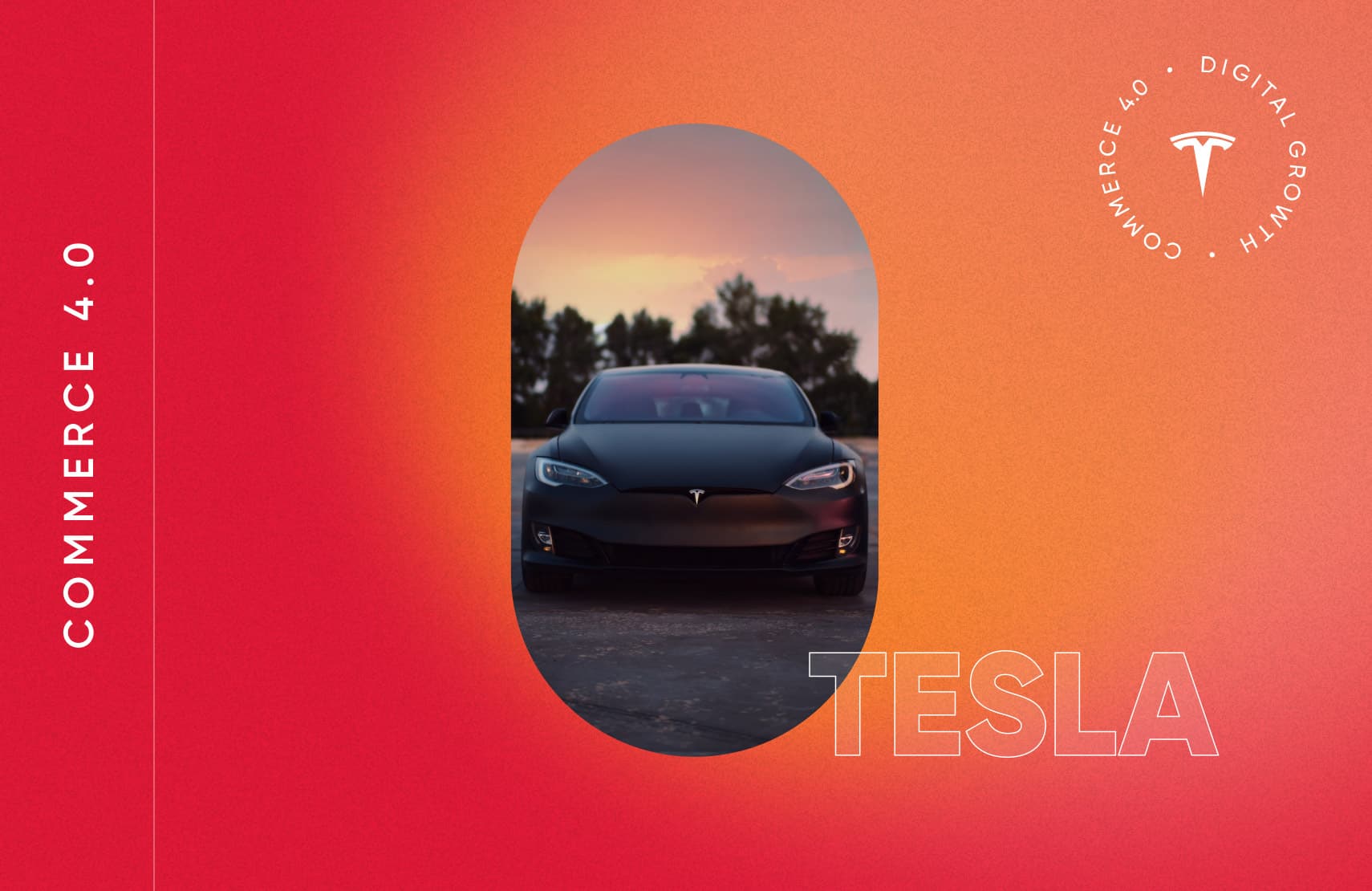 Summary
Tesla is the first major automaker to disrupt the franchise car dealership business model by using home-grown software to sell directly to consumers online.

The most critical system that supported Tesla's growth is its ERP software built by former CIO Jay Vijayan in 2012.

Tesla's e-commerce growth tactics include expanding and improving IT systems, moving all sales online, and reimagining the physical retail experience.

Tesla built an internally-developed e-commerce platform to sell its products and services because no flexible third-party commerce solution existed at the time.
This article is part of Commerce 4.0, a series about the next frontier of e-commerce along with the strategies and tactics used by iconic brands to transform how we discover, select, and purchase products.
Beyond the bravado and genius of Tesla's CEO (and Technoking) Elon Musk, perhaps the second most influential figure in the history of the organization was Tesla's former Chief Information Officer (CIO), Jay Vijayan.
From 2012 to 2016, Vijayan and his team were responsible for building all of the company's information technology systems from scratch. This software enabled Tesla to push more of its direct-to-consumer (D2C) sales online and become the first automaker in the world to disrupt the franchise car dealership business model.
By selling fully-electric cars through their e-commerce channels and company-owned stores, the company exceeded all expectations by delivering nearly 500,000 vehicles to customers and generating over $31.5 billion in sales in 2020. Notably, Tesla's revenues grew at a compound annual growth rate (CAGR) of 45% between 2016 and 2020.
But 2021 was even more impressive. Tesla achieved an annualized production run rate of over one million cars per year at the end of September 2021. Shortly after Chief Financial Officer Zach Kirkhorn confirmed the production numbers in Tesla's Q3 earnings call, the news sent Tesla's stock price soaring. On October 26, 2021, the company's market capitalization surged to over $1 trillion, making it the fifth U.S. company to reach the trillion-dollar milestone.
In fact, Tesla delivered over 936,000 vehicles in 2021—nearly doubling its output in 2020. What's more, with existing factories still in the process of ramping up production and with two additional factories set to come online soon, Tesla is positioning itself to further evolve the automotive industry and accelerate the world's transition to sustainable energy.
In this Commerce 4.0 profile, we'll explore how Jay Vijayan's team helped to develop, shape, and scale Tesla's e-commerce strategy. We'll also explore the tactics Tesla implemented to drive growth through digital and D2C initiatives.

Tesla's Growth Strategy
When Martin Eberhard and Marc Tarpenning founded Tesla Motors back in 2003, the goal was to prove to the world that electric cars could be better than gasoline-powered cars. However, Tesla's tumultuous early days caused its business and technology strategies to change, eventually creating the roadmap that would allow Tesla's D2C e-commerce operations to flourish as the business scaled.
Business strategy
Back in 2006, Elon Musk wrote a blog post that outlined his vision of the company and its strategy for achieving its goals. In short, the master plan was to:
Build a sports car.
Use that money to build an affordable car.
Use that money to build an even more affordable car.
Provide zero emission electric power generation options while doing all of the above.
Although the 2008 financial crisis nearly wiped the company out and the Model 3 put Tesla through production and logistics hell that nearly wiped it out again, the company stuck to its original vision.
Step one produced the Tesla Roadster. Step two produced the Model S and Model X vehicles. Step three produced the Model 3 and the Model Y. And step four produced lithium-ion battery energy storage products such as Powerwall, Powerpack, and Megapack, as well as solar roofs and solar panels.
However, these products only represent a portion of Tesla's overall business strategy. It also develops and sells vehicle software, a charging network, batteries to power vehicles, and auto insurance. These products and services require large-scale enterprise management systems to support all the business processes, information flows, reporting, data analytics, and other backend processes that are needed for them to function.
Technology strategy
Today, the core technologies that run the company are referred to as the "central nervous system" of Tesla. They control nearly every aspect of business operations and are critical to the execution of its business strategy.
However, these enterprise management systems only exist because agile, robust solutions were not available in Tesla's early days. This forced the company to build these IT systems in house, which is why Tesla's proprietary enterprise software is some of the most valuable technology in the entire company:
"Something that people don't really even know much about is our internal applications team that writes the core technology that runs the company. We are not dependent on [third party] enterprise software. Like for those who understand what this means, this is a very big deal. And my hat is off to the great work of the internal applications team. They are like the nervous system, the operating system of the company, the Tesla operating system. They are extremely fundamental."

– Elon Musk, Tesla Q3 2020 Earnings Call
Tesla E-Commerce Growth Tactics
To follow Elon Musk's master plan, the company needed to make high-quality products and offer premium services that would appeal to consumers and fuel demand. Tesla's breakthroughs in automotive and energy technologies were essential for producing the popular vehicles you see on the road today.
However, few people credit the company's internally-developed enterprise software that made it all possible. Without its home-grown IT systems, Tesla would not have been able to execute its business and technology strategies or significantly scale its e-commerce operations to record highs. Some of the growth tactics employed by the company include:
Building Tesla's enterprise resource planning (ERP) software
Expanding its enterprise system capabilities
Switching to an online-only sales model
Reimagining the physical retail experience
Below, we will explore each of these tactics to see how they contributed to the company's growth over time.
Tactic #1: Building Tesla's ERP software
If there's one critical system that supports the company's master plan more than anything else, it's Tesla's home-grown enterprise resource planning (ERP) software. First built in 2012 in a span of just four months by a small team of 25 engineers, the combination of e-commerce and backend management software has become instrumental in helping the business scale from nearly zero revenue to where it stands today.
Enterprise resource planning is a process used by companies to manage and integrate the important parts of their businesses. ERP software applications integrate all of the processes needed to run a company with a single system and are often used for planning, purchasing inventory, sales, marketing, finance, human resources, and more. Some of the more popular platforms that companies use today include Oracle, SAP, and Sage.
But, even in the early days, Tesla required more than what these platforms could offer. The company needed a solution that could serve Tesla's specific needs as the only fully-electric automaker in the world that was selling cars online and operating its own stores and service centers.
Because the software programs in the market were not capable of meeting Tesla's unique requirements, the company took the unusual step of dropping SAP and building its own ERP system and e-commerce software in-house. It eventually hired Jay Vijayan from VMware to lead the charge.
The secret sauce: seamless integration and a closed feedback loop
Back in 2012, Elon Musk could see that SAP's ERP technology was not working for other car manufacturers. Traditionally, automakers would buy best-of-breed enterprise software for business functions and then spend enormous amounts of energy, resources, and money to integrate, manage, and maintain the systems. Even then, information flows within organizations were not optimal because applications were not designed to connect and talk with each other seamlessly.
According to Vijayan, Musk insisted that Tesla build its own IT and its own e-commerce platform due to the fundamental differences in its business model. In addition to a world-class e-commerce system designed to help people buy a big ticket consumer product (cars) as quickly and seamlessly as possible, Musk also wanted Vijayan to build a custom end-to-end ERP platform in-house that would become the central nervous system of Tesla—the "machine behind the machine", if you will.
However, the central business operations software had to be purpose-built with flexibility, agility, scalability, and speed in mind. It also needed to be:
Vertically integrated with the entire organization, which would allow information to flow quickly and seamlessly across all departments.
Built with a closed feedback loop to their customers. This would allow the company to show the feedback coming from customers to the right people in the right departments almost instantaneously. It would also allow the company to deliver products and follow-on services to customers in the fastest way possible—often with over-the-air software updates.
This system was something that never existed in the automotive industry before. Traditionally, car manufacturers did not prioritize or address feedback from customers until problems mounted. Even then, issues were only fixed through mass recalls or through the next vehicle model. Serving the wants and needs of customers was more of an afterthought for manufacturers—which sometimes put driver safety at risk.
But Tesla's top priority was always to provide the best product, service, and overall experience to customers in the fastest way possible. The closed feedback loop of the ERP software allowed the company to be more proactive and react much quicker to customer needs. The resulting system, built to manage everything from ordering processing to manufacturing workflow and supply chain management, became central to the company's operations and unique business model. The team named it Warp (like Warp Drive).
Today, Warp centralizes, integrates, and streamlines all of Tesla's business processes in supply chain, product planning, inventory, sales order management, assets, finance, HR, admin, and more throughout the company. Every department uses the same system without the need for making custom connections, which allows different systems across the organization to work together seamlessly.
Without a doubt, Warp is the secret sauce that runs Tesla's operations behind the scenes. It is a moat that can't be duplicated—only stolen—and yet, surprisingly, most people don't even know it exists.
Tactic #2: Changing CIOs to shake up innovation
In addition to Warp and the e-commerce platform, Vijayan and his team built Tesla's Global Digital Operations Systems including its customer relationship management (CRM) system, retail systems, service operations, as well as point of sale (POS) systems. However, Vijayan left Tesla in 2016 to launch his own startup (called Tekion) and many original IT executives and managers moved on to impressive careers in other organizations.
For example, Guru Sankararaman, former Vice-President of IT Infrastructure and Operations, left Tesla to join Vijayan as a co-founder of Tekion. Ganesh V. Iyer, who came to Tesla from VMware like Vijayan, lasted a few months as CIO before joining electric vehicle startup NIO.
Gary Clark was hired as Tesla's new CIO ahead of the Model 3 production ramp but was let go shortly after as part of the company's reorganization. The constant that has remained within the IT team from Vijayan's days is Nagesh Saldi who replaced Gary Clark as CIO in 2018 and has held the job title ever since.
Clearly, the CIO position at Tesla is a demanding, high-pressure role that is not suited for just anybody. However, while a revolving door would generally spell trouble for other organizations, it has done little to faze the innovation drive of Tesla's IT team.
Even under multiple leadership changes, the applications engineering organization has continued to expand and improve the company's IT systems, producing innovative solutions beyond Vijayan's many contributions. For example, Tesla's IT team has created several other programs to help the business scale. According to a report by CNBC, these include:
TMOS (Manufacturing Operating System): tracks where a Model 3 is in the process of manufacturing, repairs, and testing
MES (Manufacturing Execution System): supports production of Model S and X vehicles
Tesla Executive Factory dashboard: shows equipment effectiveness, line data, and high-level production numbers to executives
Garage (or Garage Portal): lets workers locate a Tesla vehicle and see which firmware updates customers have received or need.
In 2016, the company also implemented Tesla 3DX, a custom end-to-end workflow system across the organization with a focus on "product platform, engineering and manufacturing efficiency, small teams, and IT". The purpose of the platform was to create a consolidated, fully-functional product structure with both computer-aided design (CAD) and bill of material (BOM) processes. At the time, 3DX was launched to help Tesla prepare for significantly higher volume products such as the Model 3 and solar products.
Tactic #3: Switching to an online-only sales model
Tesla is shifting to online-only sales worldwide. Coinciding with the release of the more affordable Model 3 in March 2019, the company released a statement to explain the move:
"Shifting all sales online, combined with other ongoing cost efficiencies, will enable us to lower all vehicle prices by about 6% on average, allowing us to achieve the $35,000 Model 3 price point earlier than we expected. Over the next few months, we will be winding down many of our stores, with a small number of stores in high-traffic locations remaining as galleries, showcases, and Tesla information centers."
Part of the reason for these information centers is because Tesla remains restricted from opening stores in many states due to antiquated dealership laws. In these states, the company sets up "galleries" where orders are not taken and employees are unable to discuss prices with customers, telling them instead to go online to place their orders.
One key benefit of this shift is that, with online sales, anyone in any state is able to quickly and easily buy a Tesla through e-commerce channels such as tesla.com, allowing Tesla to sidestep the middleman (dealer) requirements in many states. It is also actively opening stores on Native Land to sell cars D2C.
Unfortunately, the original rollout of this strategy did not go over well, which forced the company to walk back on its plans to close many of its stores. However, Tesla remained committed to reducing compensation expenses by removing sales commissions and bonuses for retail employees.
The company also reiterated that all sales worldwide would be gradually moved online and that customers that visited stores would simply be shown how to order a Tesla on their phones by store employees. These "galleries" would focus on using the stores as a space to show off Tesla technology, rather than to sell cars.
Tactic #4: Reimagining the physical retail experience
The gradual shift to an online-only sales model doesn't mean Tesla has completely abandoned physical retail stores altogether. Rather, it is rapidly expanding its retail footprint and reimagining the physical retail experience to help drive more sales online. This approach is similar to the retail model used by FARFETCH, a fashion retailer, and other successful retailers in different verticals.
In July 2021, it was reported that the company was going on a new hiring spree for retail staff in North America in preparation for increased demand due to anticipated government reform of electric vehicle incentives. It was later reported that the company was undergoing a major shift in its physical retail strategy as well.
Citing sources familiar with the plans, Elektrek reported that the new strategy includes Tesla letting go of most of its high-rent locations in malls and shopping districts in favor of expanding its physical presence by renting spaces in mall parking lots, warehouses, and other locations to manage test drive fleets and delivery centers. These delivery centers are sometimes combined with service centers and referred to as "Tesla Centers."
Tesla will also reimagine how customers interact with retail employees.
Currently, when a customer places an order for a Tesla vehicle online, they are assigned a "Tesla Advisor" at their local store to help manage the process leading up to the delivery. But because the automaker found no reason for these employees to work at a specific store, Tesla now plans to have a large part of its retail workforce work remotely to assist people as virtual advisors through the online buying process.
These changes are allowing Tesla to rapidly expand its physical retail footprint. As of Q3 2021, the company had 630 stores and service locations open, up 35% from the 466 locations a year ago. It also had 1,190 mobile service vehicles in operation, up 43% from 833 a year ago.

The Future of Tesla E-Commerce
In July 2016, Elon Musk followed up on his previous "Master Plan" by writing a blog post titled "Master Plan, Part Deux". In it, he outlined Tesla's new vision and strategies for the company's future:
Create stunning solar roofs with seamlessly integrated battery storage.
Expand the electric vehicle product line to address all major segments.
Develop a self-driving capability that is 10X safer than manual via massive fleet learning.
Enable your car to make money for you when you aren't using it.
Today, the company has continued to follow this plan closely with its current and future product offerings and services—most of which will be sold D2C through e-commerce, company-owned stores, and in the case of solar, through channel partners.
Tesla is currently selling its third generation of its Solar Roof, which combines premium glass roof tiles with energy generation. The company is ramping the volume production of Solar Roof at Gigafactory New York, and is improving installation capability and efficiency. It is also selling its most recent generations of Powerwall, Powerpack, and Megapack, which are lithium-ion battery energy storage products integrated with inverters and control technology,
Tesla's future electric vehicle product lines include Cybertruck, the new Tesla Roadster, and the Tesla Semi. The company plans to introduce in the future a lower-cost vehicle to leverage developments in their proprietary Full Self-Driving ("FSD"), battery cell, and other technologies.
In terms of FSD, Tesla has expertise (p.5) in developing technologies, systems, and software to enable self-driving vehicles using primarily vision and radar-based sensors. The company's FSD computer runs their neural networks in the vehicles, and they are developing additional computer hardware (such as its own silicon chips) and other AI and autopilot technologies to better enable the massive amounts of field data captured by Tesla vehicles to continually train and improve these neural networks for real-world performance.
Finally, there's Tesla's future autonomous ride-hailing network (p.5). When the technology improves and true self-driving is eventually approved by regulators, owners will be able to add their vehicles to the Tesla robotaxi network and have the car generate income for them when it is not in use. This will significantly offset, and at times potentially exceed, the monthly loan or lease cost of the vehicle—which would dramatically lower the true cost of ownership of the vehicles to the point where almost anyone could own a Tesla.
In fact, with all of these different initiatives working in unison, it's no wonder why Elon Musk refers to Tesla as a chain of startups. According to Musk, he views every major product line and major manufacturing plant as a startup. And because other car companies and OEMs don't own their sales and service operations, Tesla's company-owned sales and service networks can be viewed as startups too.
Other business units include autonomous driving technology, chip design, battery cells, motors, the supercharger network, insurance, and several more. Currently, Tesla has no plans to spin any of these units out into standalone businesses.
---